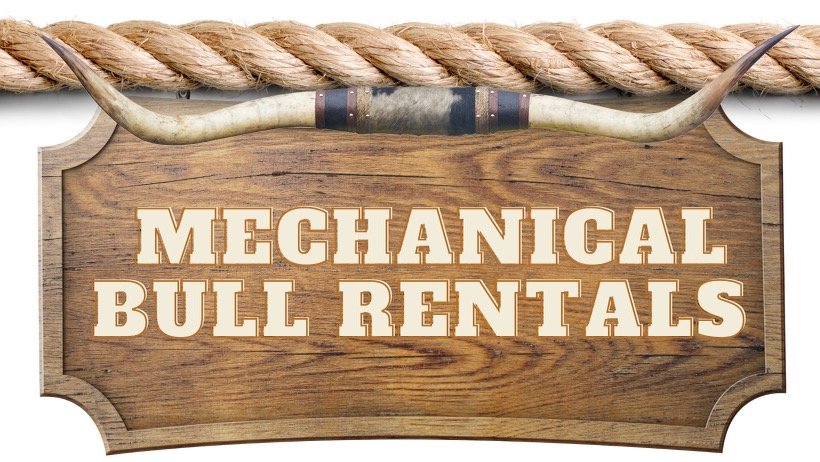 Put on your cowboy hat and boots and get ready for the ride of your life on our 2022 BRAND NEW Mechanical Bull! Everyone will be lining up for a heart pounding adrenaline rush and exciting thrills. Our trained attendant will control the bulls wrath and adjust it to your skill level. Both children and adults can hop on our Mechanical Bull and enjoy the ride with out worrying about falling and getting hurt because the Mechanical Bull is in the center of an inflatable bull ring preventing any injuries from falls. Bring the rodeo to your next birthday party, company party, venue, church, fair, or school event with a Mechanical Bull Rental. All your guests will be shocked to see a Mechanical Bull at your event, but you best believe they'll be lining up for their turn to take on the bull. Once the bull has been awakened he is not going to be nice! This popular rental will prove who the real cowboys and cowgirls are.
Taming the beast is not an easy task with our Mechanical Bull. Guests have the chance to test their skills in bull riding, while the time ticks. See who will last the longest on our wild bull before falling to defeat.
What can you use mechanical bull rentals for?
The short answer to that is about nearly anything! 
For any event, party, or special occasion you're celebrating in east TN, our mechanical bull will be a huge hit. This product would be an absolute blast for all birthday guests and most definitely for the birthday person. Our mechanical bull is an excellent choice for festivals and fairs, you will have patrons lining up to ride this magnificent beast. When your throwing a special event, such as an anniversary for your business or class reunion, renting this bull would be one of the best decisions you could make. No matter the occasion, and no matter the event, you'll find that a mechanical bull is the best product you can have at your celebration.
Why rent a mechanical bull in Knoxville?
Bob the Mechanical Bull is one of our most popular rentals in Knoxville TN. There is nothing that screams a good time louder than arriving to an event that has a Mechanical Bull. There's nothing more Tennesseean than proving your cowboy riding skills. while you can't necessarily have a real bull at your party, you can always have the next best thing: Bob the Bull. Bob the Bull has been to countless parties in Knoxville and the east TN area. This Knoxville Mechanical Bull has proven to be an absolute blast and has made many parties talked about for days after. Take your event to the next level with our Mechanical Bull Rental. 
How much does it cost to rent a mechanical bull?
Cost is always something that needs to be considered when renting equipment for an event. So be sure to do your own research on prices around and you will find that our prices are hard to beat. Our bull starts out at $999 for 3 hours and $100 for every additional hour. Plus a potiental delivery fee and tax. Price includes set up, sanitize, and break down, and a professional operator for the duration of your event
Will you provide instructions on proper bull riding to my guests?
Knowing how to safely ride the mechanical bull is very important to us, we will have a train operator to make sure you are properly instructed on how to take on bob the mechanical bull safely.
What are requirements for renting a mechanical bull?
Must be able to drive directly up to set up spot or area must be handicap accessible with no hills or stairs.
Set up location needs to be free of rocks, pet waste, sharp objects, or any other hazards. 
Please make sure you clear a spot for us to park and unload the equipments as close to the set up location as possible. If parking is further than 100 feet, please notify our office or put it in the notes when booking. 
The space needed to set up and safely operate a mechanical bull is 20ft x 20ft with a 10ft height clearance. The crowds around our bull can become large so the more room you can provide the better
Must have two separate circuits: one 20amp dedicated circuit within 50ft of the set up area, and one 15amp dedicated circuit within 75ft of the set up area. We also rent generators that can supply enough power to our bull
All participants are required to fill out a waiver before riding our mechanical bull. Participants under 18 are required to have parent signature on file, or filled out and given to the operator.